Acrylic on canvas, 60x20in. Sold for $250. Available as a print and on mugs and stickers at Redbubble.
I was inspired by a photograph of a hillside at sunset. I really love how white fluid acrylic mixes with the other colours to create a sense of brightness. I began by painting the background with Ironlak fluid acrylics. I sprayed on plenty of water with a spray bottle, and tilted the canvas around a bit to blend the colours.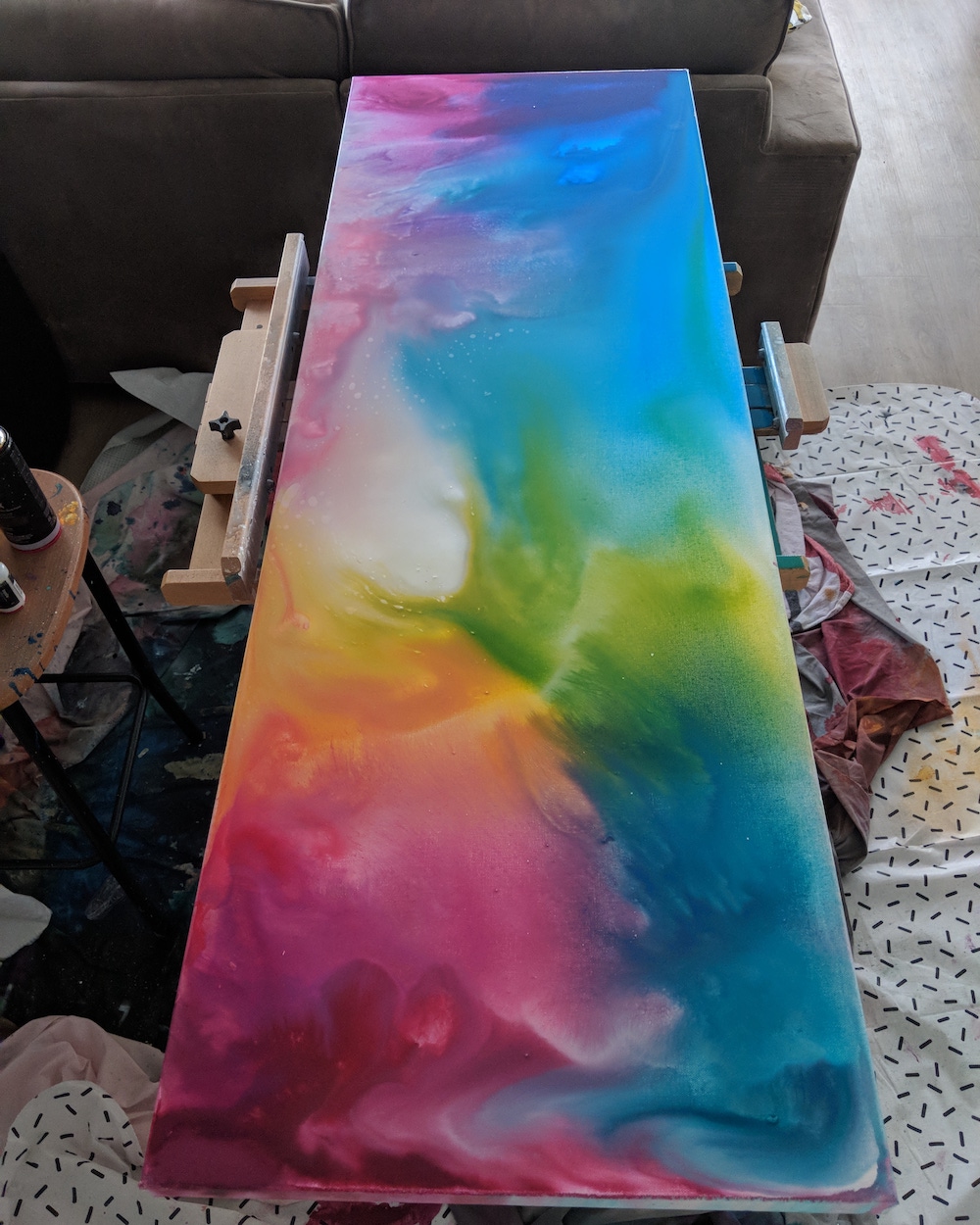 The paint always looks so much bolder when it's wet. I love the dark pink "mulberry" colour in the bottom left corner of this picture, and how it blends into the lighter pink. Using light and dark shades to create depth adds so much to my paintings, even in abstracts.
When it was dry, it looked like this.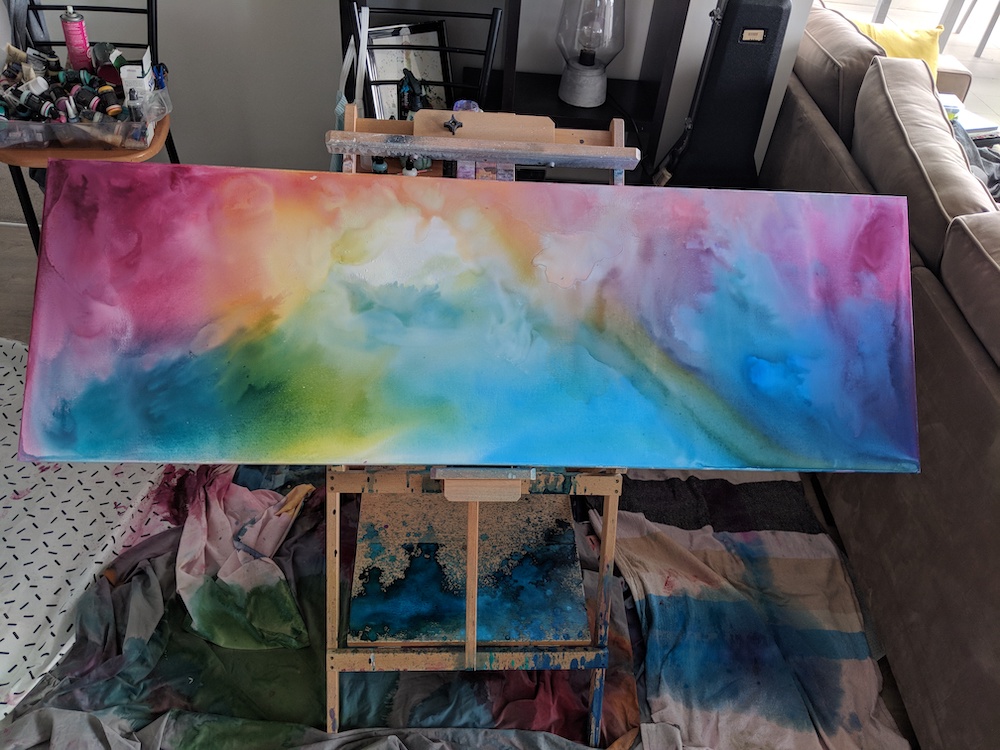 I thought it looked kind of like a dreamy, rainbow-coloured mountain. Or maybe a fantastic rainbow-spewing volcano. A friend of mine saw something totally different – the entrance to Bifrost, which is a mythological burning rainbow bridge that connects Midgard (Earth) and Asgard. This is why I love sharing my artwork with others.
Now, this is where I ruined it. While the above was still drying, I noticed some weird little black bits had found their way into the painting. I tried to get them off with my fingers, but I messed up the paint. I sprayed water on to try to fix it, but it created an awkward blob shape in the middle of the painting. Just great.
I thought well, I'll worry about that later. I poured green paint to create grassy hills. I can't really show you the resulting mess because I didn't photograph it, but it was horrendous. Really. It seems like every time I reach for the green paint, some disaster happens. Green is not a creative colour. I tried adding brown, thinking maybe that'll make it look less like a bright green blob. Nope, that made it worse.
When the fluid goes rogue, it's paintbrush time. I painted the grass instead.
SO much better already. I painted the rest of the grass, which really didn't take as long as I thought it might. I quite liked how there was still watery green from the fluid blending into the background – it added to the surreal, dreamlike feel of the painting. I decided some of the grass should be windswept because reasons.
Now it was time to paint over that damn blob. The painting needed some kind of focus anyway. Landscapes are great and all, but they can look a bit empty without some kind of entity for focus. But what does it need?
FANCY BIRD.
I found a photo of a peacock in flight online. Peacocks are the fanciest of birds. They always make me giggle because they're just so over the top. Like it's not enough that I'm a gigantic, shiny, colourful bird with super long tail feathers- check out my MASSIVE TAIL FAN. However, after painting the peacock, it still wasn't fancy enough. This wasn't a place for any ordinary fancy bird, this needed a legendary status fancy bird.
So I made it rise from the grass, glorious in its allergy-causing earthiness. Fly, earth phoenix, fly! It makes sense anyway – you can't be a fire phoenix if you live in the grasslands. You'll just set fire to everything.