When I decided to re-brand all of my consulting and training services under one brand – Transparo – I had an excuse to design some new business cards. I already have some beetles I hand-painted hanging on my office wall which remind me of the drawings from old biology reference books. These inspired my new business card design for Transparo.
Ever since I first used MOO.com to order business cards, I loved their idea to have multiple designs for business cards. I've found that people love to choose their favourite, and some folks even want one of each design. The first time I ordered cards, I used a standard MOO template that I edited with my own copy. Then I designed the next batch from scratch to show off my artwork.
I designed the cards in Canva just for a change, but didn't use any of the templates so I could have just as easily used any other image editing program. I went for a simplified, icon style for the beetles to make it look more "tech". Canva had some nice beetle icons that I'd purchased for an earlier design so I just had to re-colour those. It's always nice to save some time rather than making beetles from scratch! The Transparo brand colour I chose is "aggressive pink" – a very loud red-pink that works well with black and white. The beetles had to be coloured to contrast well with this as the background.
Then I asked my friends for their favourite debugging errors and picked the best ones to name my beetles. Null Pointer Exception, Stack Overflow, and Invalid Operation were the winners.
I ran the initial design past some friends and the overwhelming feedback was that the text was too small. Landscape orientation was not going to work for me. In fact, the only reason I had it in landscape orientation was because that was the only orientation setting in Canva for business cards! Well, I don't let my tools tell me how to design. I managed to convince Canva to re-orient the designs in my own custom dimensions.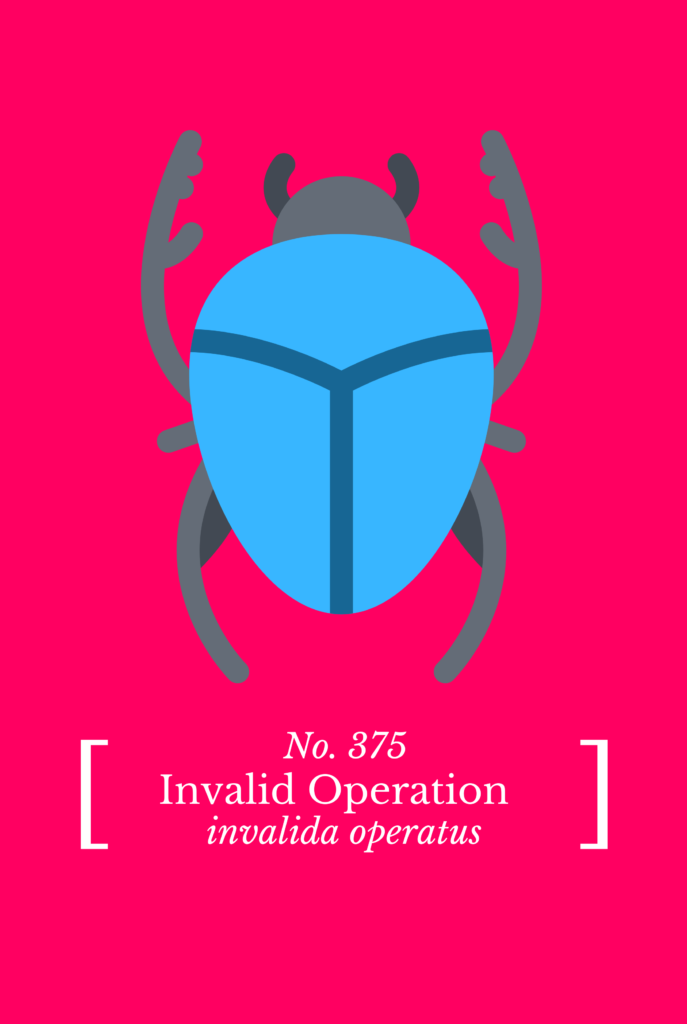 However, that meant I had to completely redesign the front of the cards to fit the portrait orientation. I took inspiration from playing cards from deck-building games, which often have several horizontal sections to easily refer to different parts of the card. I'm lucky that I have a nice short name – it lets me blow up the font size for a super-bold attention-grabbing effect.
I couldn't order the cards through Canva because they don't print at custom sizes (even though these were the same sized cards, just a different orientation!). I love the rounded corners, matte finish, and overall card quality of MOO cards anyway, so I just exported the designs at high resolution and uploaded them to MOO.com for printing. They cost a pretty penny to ship all the way from the UK to Australia but it's always worth it!
The response to these cards has been fantastic. Someone told me these are the best business cards he had ever seen. One person even ordered a print of one of the bug designs to hang on his wall!
If you would like me to design business cards for you, please do contact me. I love doing this kind of work!